Wall Mounted Split Type Air Conditioner 
Split Air Conditioner products offer wide versatility in solving your cooling for a single. The Indoor unit(evaporator) is mounted inside the room, enclosed in a handsome space saving cabinet. It is connected to the outdoor unit(condenser) via refrigerant lines & inter-unit wiring through a 3-1/2" opening in the wall. 
Since no ductwork is required, installation is simple, fast & efficient. The indoor unit has been uniquely designed to provide Whisper Quiet operation while delivering comfort throughout the room

Window
Beat the heat with the Hitachi Window Air Conditioner. Designed to give you fresh clean air with absolute cooling whenever you desire, this Air Conditioner is crafted to dispel the heat. With a 5000 watt cooling capacity this Window Air Conditioner will maintain the temperature of the room. 
This energy efficient machine come with a 3 star rating and a wireless remote control that allows you to operate this Window Air Conditioner with absolute ease.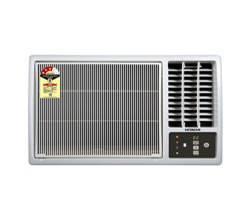 CASSETTE AIR CONDITIONER
The cassette Air Conditioner is one of the best ceiling air conditioners in India. It offers uniform cooling even in the most irregular shaped rooms. Its installation is hassle-free since it requires no ducting. 
In addition to this decorative panel that is specially designed to blend into the ceiling. 
It comes with a compact structure and a host features like the four-speed fan and Twin Rotary Compressor.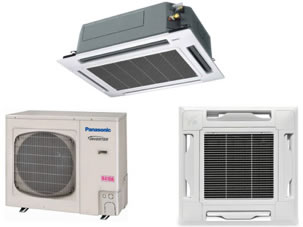 SINGLE SPLIT SYSTEM - CEILING-SUSPENDED 
Inverter Under-ceiling Air Conditioner to stay cool during summer and warm during winter — featuring the ultimate in energy-saving technology. 
The intelligent inverter feature provides the exact amount of power required to rapidly cool or heat your room, from the moment it is switched on. 
This enables your room to heat 4 times faster or cool 1.5 times faster than a non-inverter model.
SINGLE SPLIT SYSTEM - CONCEALED DUCT
Ducted systems have been designed with flexibility in mind. This is extremely helpful when designing a system for your home, and also makes installation much easier. 
A maximum piping length of up to 75m allows the system to be used in all buildings, no matter the size or shape. Both the indoor and outdoor unit are compact and lightweight, making them easy to transport, and easy to install.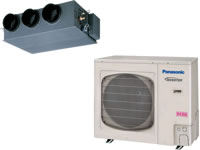 FLOOR STANDING TYPE 
The floor-standing configuration means is easy to install and maintain. It can also be installed under high ceilings.